20% OFF ON ALL TEES USE CODE: PGBOOMBF20OFF

Find your new favorite creepy shirt.
Here's what our customers say

★★★★★ "My husband loves Cthulhu and bulbasaur so this was perfect. And he loved it. He said one of the best gifts I've got him yet lol very happy with my purchase."
- Moriah Conchola on Bulbathulhu


★★★★★ "This was a Christmas gift for my significant other- and boy was I thrilled over the quality, and the fit. He absolutely loves it, deff one of the best things he got this year. I'd highly recommend this for any Cowboy Bebop fan!"
- Victoria Conte on Woman Yelling at a Data Dog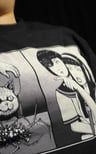 ★★★★★ "The details of the image are crisp and perfect. Fit is a little slimmer but still looks great on me. Chalk it up to covid belly lol thanks love this shirt!"
- Mako on Gore Girl Yelling at a Creepy Cat


★★★★★ "Gave this to my son as an early birthday gift. We're both Studio Ghibli fans, but he is one of THE BIGGEST Godzilla fans I know. The shirt is exactly as pictured and my son loved it!"
- Kristiene on Studio Gojira